Saving Our Sharks Foundation is dedicated to supporting local communities' livelihoods by protecting shark populations. We strive to ensure a brighter future for sharks and the communities that call oceans their home.
To support and amplify shark conservation community efforts and lead a shark conservation movement towards a future where sharks are valued alive, protected and recognized as key species for livelihoods and ocean health.
A future where people recognize the true value of sharks and they are kept alive, protected as a key species, and valued for the health they provide to our ocean ecosystem and livelihoods.
Our goal is to amplify and bring meaningful support to local communities by funding impactful shark conservation projects that bring long-term wellbeing for sharks, their habitats, and the people who depend upon them.
We seek multisectoral collaboration across a wide range of stakeholders to address complex conservation challenges and create exponential impact.
We are committed to exploring new, creative and sometimes disruptive ways to promote shark conservation. We no longer do "business as usual".
We are committed to a culture of collaboration, communication, and mutual respect as a way to achieve shared goals and objectives.
We value the importance of measurable impact in our conservation work and only support projects that aspire to long-term, positive impacts on shark populations, their habitats, and the people who depend on them.
We strive to provide education, training, and the resources that empower communities, corporations, and individuals to make positive contributions to shark conservation and marine protection.
We promote non extractive circular economy solutions through an ecosocial approach to create a positive impact on sharks, fishers, and coastal communities that depend on them.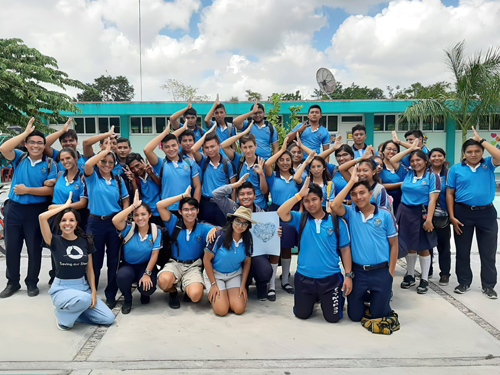 Meet our Implementing Partner
Saving Our Sharks A.C. is a non-profit organization that has been in operation for over 13 years, successfully implementing shark research and conservation projects in the Mexican Caribbean. 
The successful management model with bull sharks in Playa del Carmen created 10 years ago by Saving Our Sharks is a fundamental piece in the success we hope to achieve in Isla Mujeres today.
We are a group of people who are deeply committed to shark and ocean conservation for the benefit of human livelihoods in the Caribbean
Support the Masters of the Sea in creating a future where fishers become protectors of sharks.